Breastfeeding, Reimagined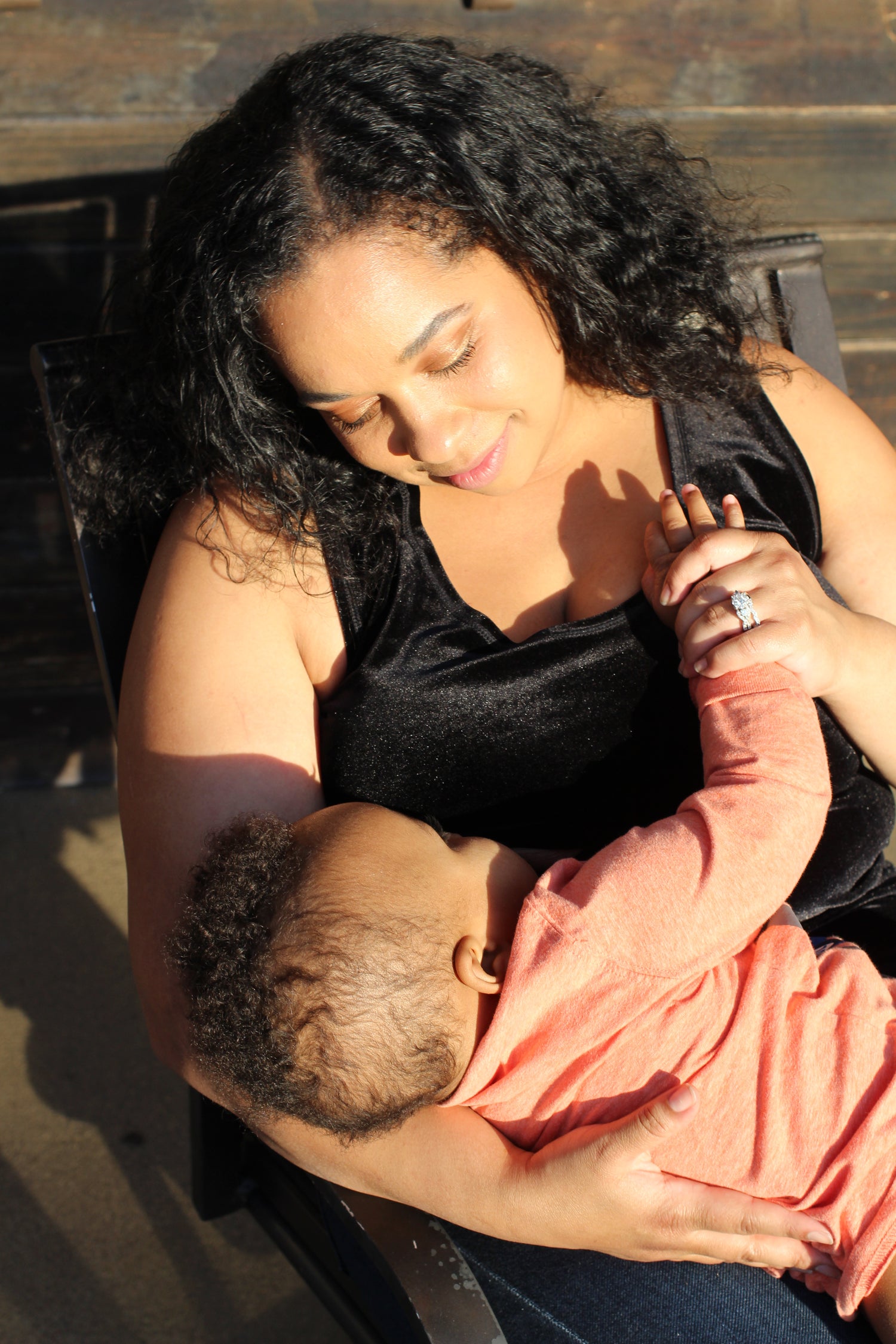 Have Privacy Even in Public
I feel that all moms deserve to be able to feed their baby anytime, anywhere, and feel totally comfortable and confident while doing it. I struggled with receiving dirty looks with my first son and knew that I wanted something that covered the upper portion of my chest without covering my child at all. I wanted something that could be worn with the clothing of my choice or on its own as a nursing tank. I began designing this product when I was finishing up the final semester for my business degree. After looking high and low in all the baby/pregnancy stores and online, not finding anything to provide adequate coverage while nursing I knew I needed to create this. I attended a baby expo as a patent-pending invention and got great feedback from parents, investors, other inventors and bloggers. I knew this was great, but wanted to ensure this wasn't already created by anyone else before going on the market. January 7, 2020 my patent was granted and now I am excited to make my products available to every mother who desires to breastfeed discreetly and let breastfeeding go unnoticed by others. I look forward to seeing mothers have more options for feeding their baby and I would love to hear how it has impacted their breastfeeding journey as they nurture their child in the way that feels most comfortable for them.
I've found that this product also provides great coverage for mom's while pumping breastmilk!
Why is this Better?
Better Relationships

We spend much of our time with our friends, family and the communities that matter most to us. While many places now offer a separate place to breastfeed in a private location, many of us don't like the idea of isolating ourselves or missing out on the activities and events that are going on in our absence. Wearing this gives you the perfect amount of privacy to keep you comfortably covered while allowing you to stay where your loved ones are. We can tend to our baby's needs without neglecting our own desire to connect with other people.

Simple to Use

This tank can be worn on its own or under your favorite shirt or dress. All that's required is a neckline that you can lower enough to breastfeed or a shirt that you're able to lift and this will cover the top of your chest or tummy. The design of the product allows the center of the garment to remain attached at all times so that the chest remains covered during feedings. Mothers can simply lift the the shirt on the side their nursing on just enough to latch or lift their clothing up from the bottom to nurse with the same coverage.

Save Money

As new mothers, we have just finished spending money on a pricy pregnancy wardrobe. The last thing we should have to do is be required to spend even more on a new nursing-friendly wardrobe. These new clothes can be expensive and will also become unnecessary once the breastfeeding journey has ended. This item can be worn under almost any of your existing clothing. You are able to wear most anything you want paired with this to have the coverage you are looking for. Now, your unique style doesn't have to be limited to the maternity section anymore.